MACD Strategy for Quotex and IQ Option
This Quotex trading strategy includes  MACD oscillator, (EMA) Exponential Moving Average, and Parabolic SAR. This is one of the simple strategies used by traders to increase their profitability in India while trading with IQ Option, Olymp Trade, and Quotex.
There are three technical indicators put together to produce better trading signals that help you interpret the trend and trade effectively. It helps traders enter a buy or sell position at the right time. This combination of three indicators as a strategy has been used by many traders in India to get a profitable result. You can challenge yourself in a demo account and double your IQ Option or Quotex account while using this strategy. However, risk management and money management can't be ignored. You can share your experience of using this strategy on the Olymp Trade account in the comments below.
This strategy is effective for 2 hours expiry trades, you may check out Bollinger Band Strategy for 5 minutes trades.
This Strategy includes three indicators
A 14 period Exponential Moving Average (EMA).
The MACD indicator to indicate the direction and strength of the trend
The Parabolic SAR indicator to reconfirm the trend direction

How to configure the MACD Strategy for Quotex and IQ Option platform?
Login into your account and configure the charts, as shown below. The chart configuration process is demonstrated with the IQ Option platform. You can also configure the chart for Quotex or Olymp Trade platform in a similar way.
STEP 1
Select the Candlesticks chart and set time period to 1 hour. The recommended time frame for using this trading strategy  is 1 hour.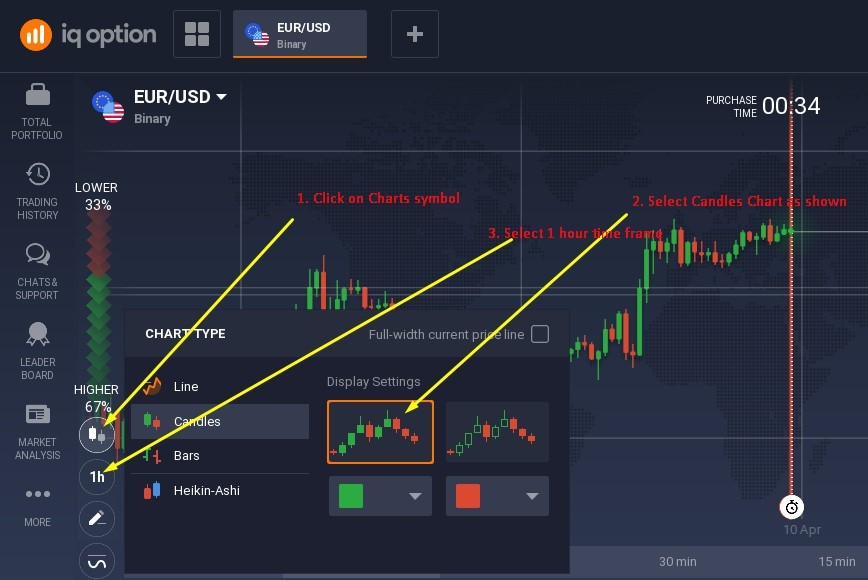 STEP 2
Now bring in the indicators  – Click on the indicators button on IQ Option platform and add MACD, EMA, and Parabolic SAR to the chart. Follow the steps shown in the below image.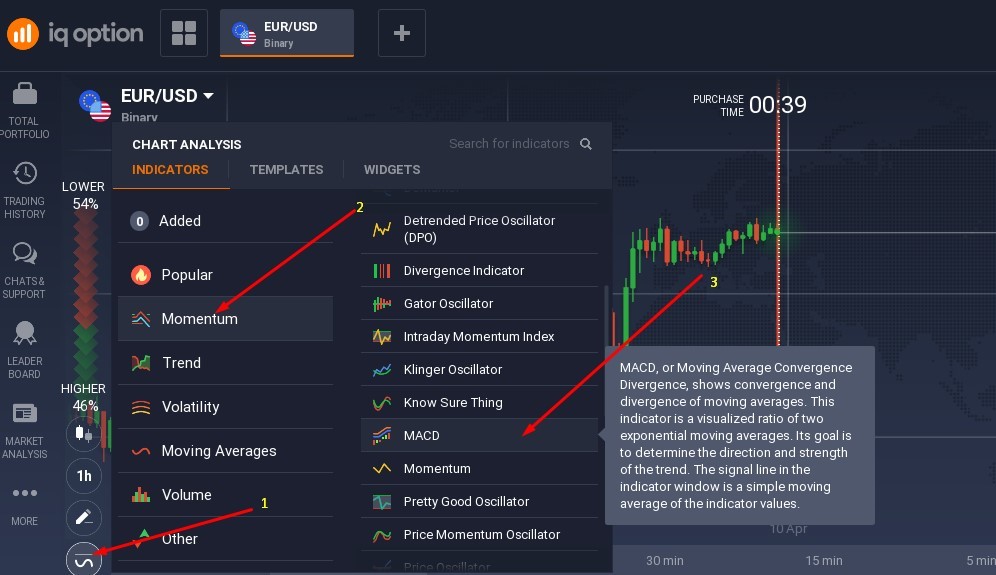 STEP 3
Now observe the chart for signals. When Parabolic SAR dots formed above the candles, it indicates a down trend. When the dots are displayed below the candles, it indicates an up trend.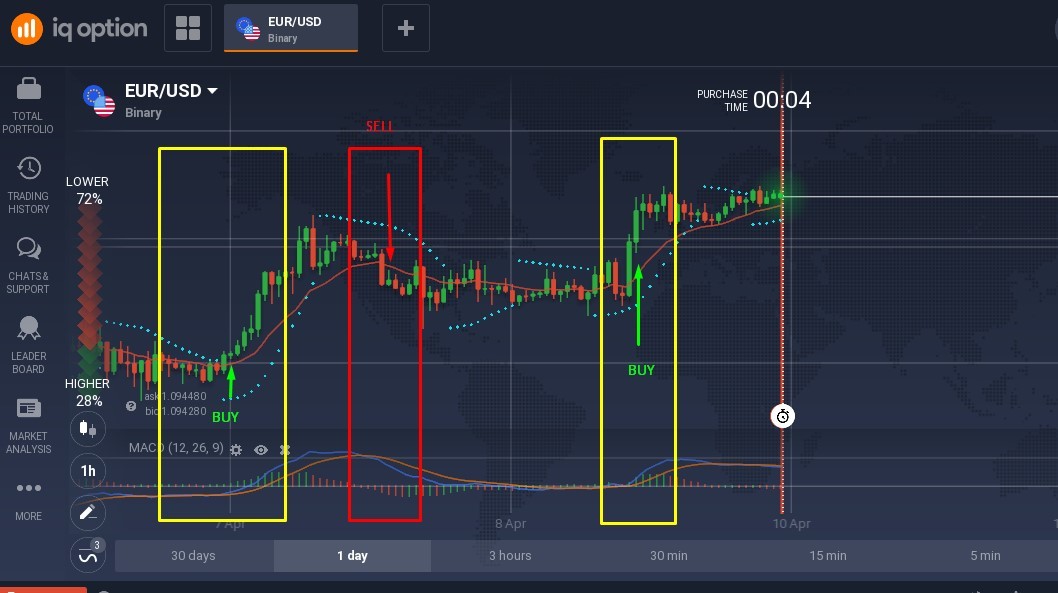 How to follow the charts and trade on Quotex and Olymp Trade platform?
How to open a UP or BUY trade with this strategy?
Place a BUY or UP trade if you observe the following –
Ensure that the previous candle crosses through the EMA line and closes above it.
Parabolic SAR dots are below the candles.
The MACD line crosses the signal line in upward direction.
When the above conditions are met, pause until the end of the present candle. Place the BUY or UP trade at the next new candle. The trade expiry while using this strategy should be twice the chart time-frame. The chart is of 1hr time frame, hence trade expiry should be 2 hours.
How to open a SELL or DOWN trade?
Before you place a SELL or DOWN trade, ensure the following conditions met.
There is a Red candle crossing down through the EMA line.
The MACD line crosses the signal line in a downward direction.
Parabolic SAR dots are formed above the price candles.
Don't be in a hurry to place a trade, wait for the MACD lines cross and wait for the current candle to finish. Verify all the three indicators again and place a trade at the start of a new candle with 2 hours expiry.
How to earn $50 per day using this strategy in India?
This strategy can potentially make you $50 or more per day in India with an investment of $300. Deposit at least $300 with IQ Option, Quotex or Olymp Trade, and start trading while investing $20 in each trade while following the strategy. You have to win 3 trades to earn $50, some times you may need more number of trades to earn $50. You can find up to 10 trading opportunities confirming the strategy in 4 to 5 hours of observation.
Always trade safely – You should stop trading after reaching your daily target of $50 on any day. Stop trading if you lose $50 or more on any day. Start fresh again on another day.
The following trading tips will help you avoid losses –
Trade only if the signals from all three indicators confirm the trade.
The trade expiry must be twice the time frame. If you have 1-hour chart, then trade with an expiry of 2 to 3 hours.
This strategy works better in the US & European sessions. Avoid trading during news events.
Never trade more than 5 to 10 percent of your account in any single trade.
Always study your trades and improve your skill by planning your risk management based on your success rate.